Startups are making a swift change of how business is done in Latin America, and arguably, are also having an impact that goes beyond investments and business developments. From the way they are marketed and their innovative nature, to the very core of their businesses. While often underestimated and misunderstood by many, it can be argued that startups are not only advancing economies, but are actually becoming accelerators of countries.
Startups are companies in their early stages of development that are commonly looking for seed funds or capital investments to takeoff. While some fail and others succeed, in the last few years, startups -and even unicorns (startup companies with a market value of over USD 1 billion)- are surging from many Latin American countries. Among the universe of Latin American startups, some of the most notorious names are Brazilian Nubank, Madeira Madeira, Loft, Colombia's Rappi, and Mexican Bitso, Kavak, Sofia or Yalochat.
Even during a pandemic -and in times of economic hardships-, in 2020 startups in Latin America managed to raise USD4 billion in investment for a second consecutive year (LAVCA, 2020). Almost half the capital invested, went to two segments: 40% went to Fintech companies (financial technology-related companies) and 12% towards e-commerce startups (online buying and selling platforms). Geographically speaking, most of these investments have been made in countries like Brazil, México, Colombia, Argentina, Chile and Perú.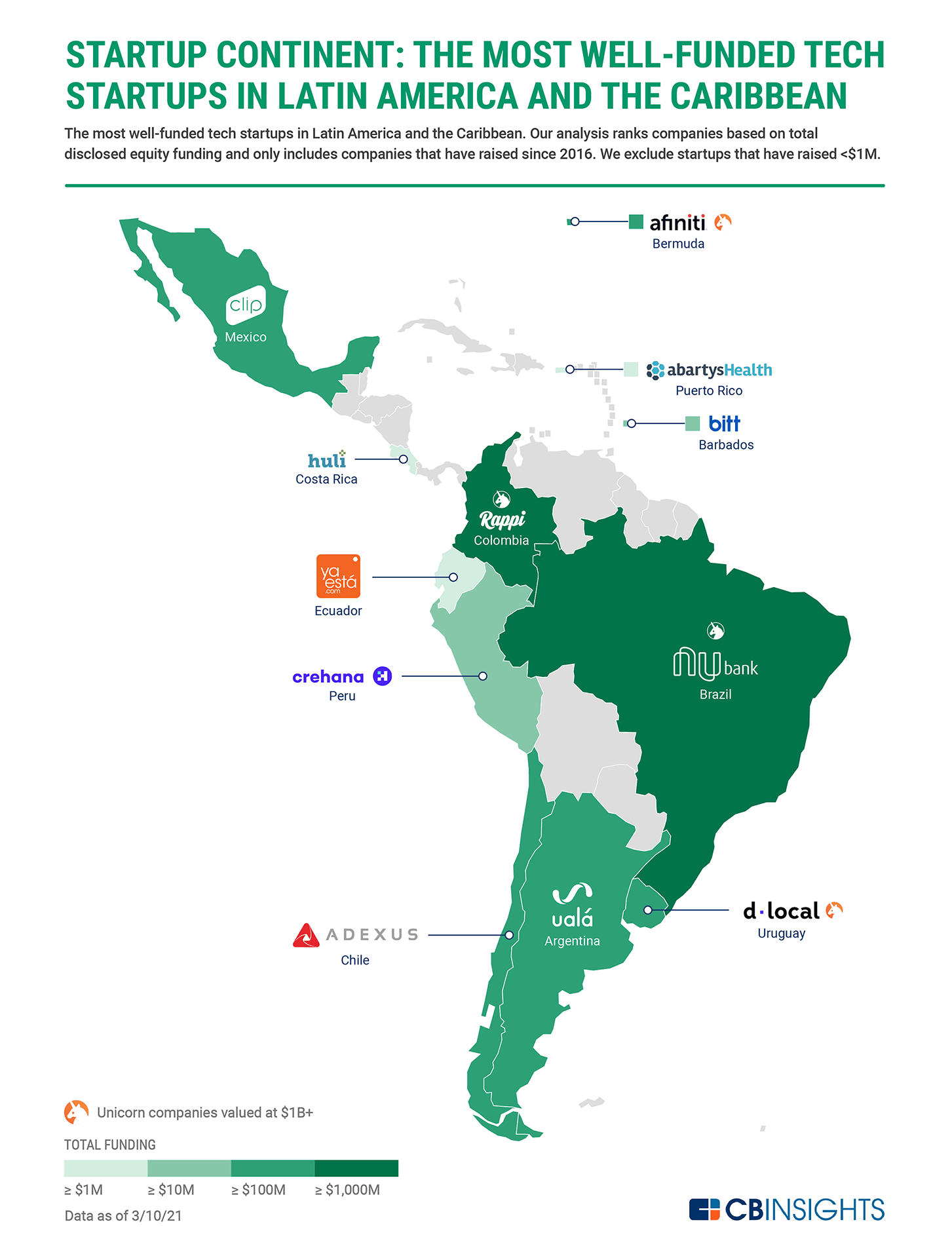 "A look at the world of startups shows us a region in motion, capable of generating innovative ideas and companies; a dynamic region and in better condition than the aggregate indicators reveal"

Latin America Startup: Building an Innovative Future.Organisation for Economic Cooperation and Development
But, why accelerators and saviors? What is the transformative power behind startups for Latin America?
Startups can fundamentally redefine how Latin America is viewed, as it could be the way in which many countries take a fast track towards economic and social development, in a region longing for digital transformation, technological disruption, and competitiveness.
Many Latin American startups work around the dichotomy of disruption and tradition. On one hand their business models are technology-centric, global, and solutions oriented. On the other hand, many of these companies tackle and/or work around tradition by finding business opportunities and niches in the region's most traditional channels (like informal economies), and even in vulnerabilities like lack of access to formal banking services, reliable transportation, accessible higher education, or software and logistics services to support small and medium businesses to connect with their clients.
For instance, Brazilian fintech startup Creditas has found a huge business market competing with traditional banking and credit services by lowering interest rates and making loans more accessible, secure, and cheaper for people. Another example are so-called edtech startups, like Peruvian Crehana or Brazilian Descomplica, which are companies that are betting on virtual learning to enhance traditional education systems and to make education and training more accessible for people everywhere.
Setting an example to other Latin American companies is another legacy that can be credited to startups. Some of the best business practices in terms of human resources and work-life balance around Latin America can be found in these companies. As many startups are aware that human talent is scarce and key to their success, many startups are pioneers in developing comprehensive wellbeing packages for their employees that go from discounts in fitness club memberships, free yoga classes, and meditation activities to more impactful practices like parental and maternal leaves, family healthcare packages, flexible/remote working, generous paid time off or childcare.
Beyond their profit-making capacity, many startups are unveiling a new chapter in social mobility for many Latin American countries. The startup scene has motivated entrepreneurs and young talented workers alike around the possibility of making it big, globally. Lastly, -and perhaps most importantly-, startups and unicorns have impacted societies and are shaping Latin America by closing major gaps: making financial inclusion a possibility for rural and otherwise excluded consumer populations, making small businesses more competitive and open to global markets through e-commerce platforms, making insurance and health services more affordable to people, among others.
Insuretech, agrotech, fintech, healthec, proptech, edtech… needless to say, startups are making a big statement around the world, and Latin America is not the exception. With the potential to bring much needed market and investment opportunities to Latin America, startups and unicorns are increasing the region's competitiveness through innovative and impactful businesses.
---
Los Unicornios, ¿al rescate de América Latina?
Las "startups" están cambiando rápidamente la forma en la que se hacen negocios en América Latina y, posiblemente, también están teniendo un impacto que va más allá de las inversiones y los desarrollos comerciales. Desde la forma en que se comercializan, hasta sus innovadoras prácticas y giros de negocio. Aunque las startups puedan ser incomprendidas o subestimadas por algunos, se puede argumentar que estas empresas emergentes no sólo dinamizan economías, sino que en realidad se están convirtiendo en aceleradores de países.
Las startups, son empresas en sus primeras etapas de desarrollo que comúnmente buscan fondos semilla o inversiones de capital para despegar. Mientras algunas fracasan y otras triunfan, en los últimos años han surgido muchas startups, e incluso unicornios (startups con un valor de mercado de más de mil millones de dólares) en muchos países de América Latina. En el universo de las startups latinoamericanas, algunos de los nombres más notorios son las brasileñas Nubank, MadeiraMadeira y Loft, la colombiana Rappi, o las mexicanas Bitso, Kavak, Sofia y Yalochat.
Incluso durante una pandemia -y en tiempos de dificultades económicas-, en 2020 las startups en América Latina lograron recaudar USD4 mil millones en inversión por segundo año consecutivo (LAVCA, 2020). Casi la mitad del capital invertido se dirigió a dos segmentos: el 40% se destinó a empresas Fintech (empresas relacionadas con la tecnología financiera) y el 12% a startups de comercio electrónico (plataformas de compra y venta online). Geográficamente hablando, la mayoría de estas inversiones se han realizado en países como Brasil, México, Colombia, Argentina, Chile y Perú.
"Una mirada al mundo de las startups nos muestra una región en movimiento, capaz de generar ideas y empresas innovadoras; una región dinámica y en mejor estado de lo que nos revelan los indicadores agregados"

Sartup América Latina: Construyendo un Futuro Innovador. Organización para la Cooperación y Desarrollo Económico (OECD)
Pero ¿por qué aceleradores y salvadores? ¿Cuál es el poder transformador detrás de las startups para América Latina?
En principio, muchas startups latinoamericanas trabajan en torno a la dicotomía de disrupción y tradición. Por un lado, sus modelos de negocio están centrados en la tecnología, son globales y orientados a soluciones. Por otro lado, muchas de estas empresas abordan y/o trabajan en torno lo "tradicional", pues encuentran oportunidades y nichos de negocios en los canales más comunes e incluso vulnerables de la región: en las economías informales, en la falta de acceso a servicios bancarios formales, en las debilidades en sistemas de transportela , falta de educación superior accesible, o en los carentes servicios de software y logística costo eficientes que faciliten a las pequeñas y medianas empresas a conectarse con sus clientes.
Las startups pueden redefinir fundamentalmente cómo se percibe -y posiciona- América Latina en el mundo. Este tipo de empresas pueden facilitar que muchos países latinoamericanos aceleren su ruta hacia el desarrollo económico y social, en una región que anhela transformación digital, disrupción tecnológica, competitividad y grandes ejemplos de ética empresarial.
Por ejemplo, la startup brasileña de tecnología financiera Creditas ha encontrado un enorme mercado, al competir con los servicios bancarios y crediticios tradicionales brasileños, esto al reducir las tasas de interés y hacer que los préstamos sean más accesibles, seguros y más baratos para las personas. Otro ejemplo se encuentra en las llamadas startups de edtech, como la peruana Crehana o la brasileña Descomplica, que son empresas que apuestan por el aprendizaje virtual para potenciar los sistemas educativos tradicionales y hacer que la educación y la formación sean más accesibles para las personas de todo el mundo.
Adicionalmente, ser un modelo a seguir para otras empresas latinoamericanas es otro legado que se puede atribuir a las startups. Algunas de las mejores prácticas de negocios en términos de recursos humanos y equilibrio entre la vida personal y laboral en América Latina, se pueden encontrar en las startups. Como muchas de estas empresas son conscientes que el talento humano es escaso y clave para su éxito, muchas startups son pioneras en el desarrollo de paquetes integrales de bienestar para sus empleados. Algunos de estos paquetes van desde descuentos en membresías de gimnasios, clases gratuitas de yoga y actividades de meditación, hasta prácticas de alto impacto como licencias de paternidad y maternidad remuneradas, paquetes de atención médica familiar, trabajo flexible/remoto, generosos paquetes de tiempo libre remunerado, e incluso programas de guarderías infantiles que facilitan el cuidado de los hijos.
A pesar de los retos, y más allá de su capacidad de generar ganancias, muchas startups están abriendo un nuevo capítulo en la movilidad social para muchos países de América Latina. El boom de las startups ha motivado tanto a emprendedores como a jóvenes trabajadores talentosos sobre la posibilidad de triunfar a gran escala y alejarse así de la inestabilidad política, social y económica que muchos de sus países sufren. Por último, -y quizás lo más importante-, las startups y los unicornios han impactado a las sociedades y están dando pie para que América Latina pueda cerrar brechas importantes: hacer de la inclusión financiera una posibilidad para muchas personas fuera de los sistemas financieros, hacer que las pequeñas empresas sean más competitivas y puedan abrirse a los mercados globales a través de plataformas de comercio digital, o haciendo que los servicios de seguros y salud sean más asequibles para las personas, entre otros.
Insuretech, agrotech, fintech, healthec, proptech, edtech … No hace falta decir que las startups están cambiando la forma de hacer negocios en todo el mundo y América Latina no es la excepción. Con el potencial de brindar oportunidades de mercado e inversión muy necesarias para América Latina, las startups y los unicornios están aumentando la competitividad de la región a través de negocios innovadores e impactantes.